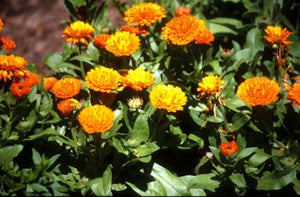 Annual. 1 ft. Sun to Part Shade.
Calendula is also called pot marigold. It has bright yellow or orange flowers that are edible. It is a powerful medicine, used for antiseptic tinctures, skin ointments, anti inflammatory treatments and teas. One plant will last forever in the garden.  Although it is considered a cool season annual, it often lives several years in our gardens, and it also self sows freely. Unlike a lot of herbs though, most people don't consider this to be such a vicious weed, since the flowers are delightful and it is easy to remove unwanted seedlings. Blooms spring, winter and fall in our gardens. Calendula is the International Herb Association's 2008 PLANT OF THE YEAR.
Calendula officinalis is a short-lived aromatic herbaceous perennial, growing to 80 cm (31 in) tall, with sparsely branched lax or erect stems. The leaves are oblong-lanceolate, 5–17 cm (2–7 in) long, hairy on both sides, and with margins entire or occasionally waved or weakly toothed. The inflorescences are yellow, comprising a thick capitulum or flowerhead 4–7 cm diameter surrounded by two rows of hairy bracts; in the wild plant they have a single ring of ray florets surrounding the central disc florets. The disc florets are tubular and hermaphrodite, and generally of a more intense orange-yellow color than the female, tridentate, peripheral ray florets. The flowers may appear all year long where conditions are suitable. The fruit is a thorny curved achene.