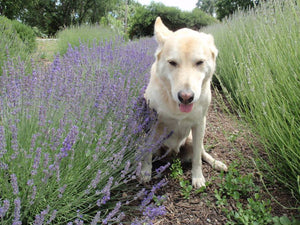 This is a cultivar we have grown for 20 years at the nursery, and it is definitely a winner! 'Maillette' is a bush with a loose habit, although when mature its green foliage is erect with upswept branches. It grows to 3 feet in bloom, easily the largest English lavender we grow. It blooms later than most English cultivars, blooming from June-August. Flower stems can be up to 18 inches long, and the slender, loose flower spikes 3 inches or more. The flowers are striking, with dark violet-blue corollas and soft dark purple calyces. It is an elegant cut flower, and dries well.
'Maillette' is the main field variety of L. angustifolia grown in France today. It produces an abundance of high quality oil. Aroma is considered to be strongly fragrant. It is a more disease resistant selection than many of the English lavenders, so is more forgiving of heavy clay soils.
'Maillette' is a very attractive cultiver, suitable for ornamental, fragrance and oil purposes. It is used to produce Morningsun Herb Farm's
Maillette Lavender Essential Oil
.