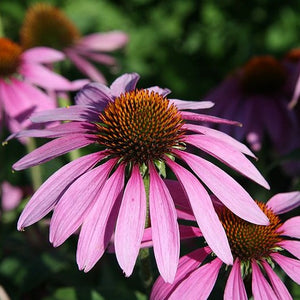 Herbaceous. 2-3 ft. Sun to Part Shade.
E. purpurea is the most commonly grown coneflower, beloved by habitat gardeners, herbalists and cut flower growers. It is extremely vigorous and easy to grow from seed or division. On the west coast of the U.S. it is far easier to grow than A. angustifolia, making it the preferred plant to grow for medicine making. The larger rugose leaves are deer resistant, and it flowers throughout the summer and into the fall, especially if deadheaded. The flower petals are rosy purple, with a orange-brown central disk. Flowers are mildly fragrant. They make a wonderful fresh cut flower, rather interesting for drying. If the flowers dry on the plant in the fall finches will sit on the cones and pick out the seed.
Grow purple coneflower in the sun or a little afternoon shade, with well drained soil. When new leaves emerge in the spring snails and slugs will come running. I guess they know the leaves will help boost their immune system. New transplants may need to be protected from gophers. DO NOT help gophers boost their immune systems! They are already too tough and wily for us on our farm...