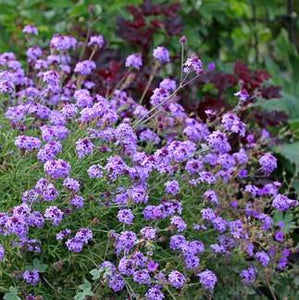 Perennial. CA Native. 3 ft. Sun to Part Sun.
Valuable for both cottage gardens and dry gardens or large pots, this plant makes a dense 3' high and wide mound. It is a popular cultivar due to its very uniform shape and deep purple flowers, grows best in sunny exposures, and can be clipped in fall to manage size and shape.
Butterflies and bees adore it and it thrives in a range of soils, from sandy to clay. This verbena can bloom most of the year with a peak in spring and summer and the flowers rise up on stalks 8 inches to hover above the foliage. Plant in full to part sun. It has low water needs and can go extended periods without any water but a monthly irrigation cycle from late spring through the first rains of fall keeps this plant looking lush with continuous blooming. Hardy to 25° F. 
Collected by Carol Bornstein, then Director of Horticulture at the Santa Barbara Botanic Garden, in the Canyon de la Mina on Cedros Island, an island off the west coast of Baja California. Although not native to California proper, the northern Pacific Ocean islands off Baja California have a mediterranean climate and are considered to be part of the California floristic province and so plants of this area are often treated as "California Natives".