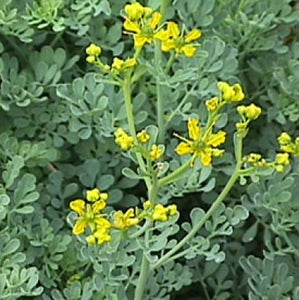 Also called Herb-of-Grace. Lobed upright perennial with blue green foliage and small yellow flowers. Pinch back to encourage bushiness. Insect repellent. Foliage may cause skin irritation. Medicinal. Plant in full sun in well drained soil.
Leaves were doused with holy water during the Middle Ages and sprinkled over the congregation during Mass. It was a component of 4 Thieves Vinegar, which was a vinegar mixture with herbs that was used by grave robbers during the Plague.
Leaves are sometimes used for cooking, but it is very bitter. Leaves are used to aid digestion and for ear infections.