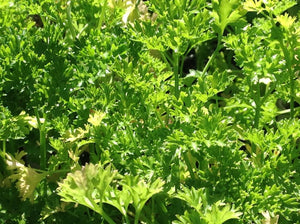 Biennial. 1ft. Sun to Part Shade.
Native to southern Europe, curly parsley has curly leaves and is more commonly used chopped into salads and cold pastas or used as garnish.   Only growing to 12 inches, it is adapted to more afternoon shade. It grows well in containers and mixed herb pots.
Parsley is a true biennial, so it is best to replant it each year, since when it goes to seed it will lose vigor. In hot summer areas it is often replanted in fall.
Plant parsley in habitat gardens also, since caterpillars of many kinds of butterflies will eat the foliage. Parsley is high in vitamin C.