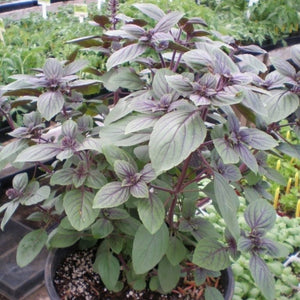 African Blue Basil is a beautiful specimen plant, growing to 4 feet tall and almost as wide. It is a sterile hybrid, so this is the one variety we will freely allow to bloom. The dark violet red blooms are gorgeous and fragrant and are excellent for cut bouquets. It is also a great addition to the vegetable garden to attract happily pollinating honeybees.
Although grown for the showy violet tinged leaves, the flavor is quite delicious - a bit milder than other basil, with a hint of camphor. At first the camphor throws you off a bit as a culinary, but it quickly grows on you.
Because it is sterile, it does not produce any seed and is only grown from cuttings. It is a bit more cold tolerant than many basil, and we usually have it out in the garden until Thanksgiving. Many people will treat it as a house plant, which works alright so long as it has good light. Often people will root cuttings in the winter so they have it to go back into the garden in the spring.