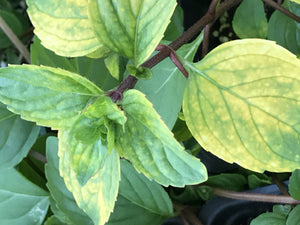 Herbaceous. 1 ft. Part Shade.
This is an unusually beautiful mint, with big green leaves flecked with gold. It has a spicy fruity scent and flavor, great for teas and cooking. Hardy to zone 5.
Keep mint planted in a container away from the garden to prevent it from getting loose! Prune plants back frequently to maintain flavor, fertilize lightly at least once a month in containers, and plant in some afternoon shade.