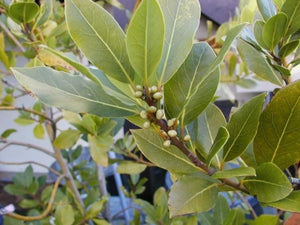 Bay laurel is an aromatic evergreen tree or shrub. It can slowly grow up to 40 feet, although it is easily grown as a container tree or shrub. It is native to the Mediterranean region, where it often grows in dry shade. It does well in hot California sun, although it prefers deep, regular watering until it is well established. It is hardy down to 10 degrees F, so in many parts of the country gardeners will grow it in containers and move it indoors for winter protection.
Bay laurel has long been considered a sacred herb, used for protection and divination. Laurus is from the Latin word 'laus', meaning to praise, and it refers to the crown of bay leaves worn by victorious Romans.
Laurus nobilis is the preferred plant for cooking, over the California native bay, Umbellularia californica, which has a very harsh, camphor flavor. The leaves are the primary portion of the plant used, add to 'bouquet garni', as well as soups, meat and chicken. Because the leaves remain leathery even when cooked, they are removed before eating. Flower buds are also used for cooking. In the fall, a small round berry covered with a thin fleshy black covering is produced, sometimes in large quantity. Over time these can slowly self sow. Some people will roast the seed - it's delicious, having a nutty flavor.