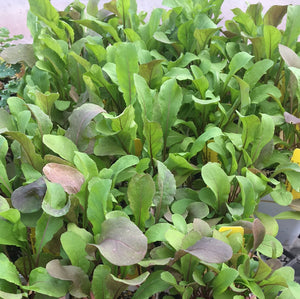 Annual. 12-18 in. Sun to Part Shade.

Slightly lobed leaves with a nutty and peppery flavor. Arugula prefers a fertile, well-drained soil, with a pH range of 6.0-6.8 in full sun to part shade. Can be grown all season in the field.
Harvest with a knife when leaves reach desired size, about 3-6". Cut about an inch above the soil to allow for clean regrowth, making sure to cut above the basal plate. Cut again when plants are at desired size, 5-14 days depending on variety. After plants flower, the leaves can still be used, but taste is sharper.
Edible Flowers: The white flowers with dark pink veins are edible, and can be harvested as they appear. Sprinkle them over salads or add to vegetable stir-fries. Flavor is spicy and nutty. Popular choice for brightening up salad mixes.